Queensland Futsal Academy is aimed at players that are interested in developing technical skills in a professional environment; many nations like Spain, Italy and Brazil have incorporated Futsal Into their Football curriculum and the results speaks for itself those countries won 10 FIFA world Cup among themselves…..
Galaxy FC competes in the F-League. The Men's and Women's team compete to be crowned Australian Champions and to progress to Asia. The Junior Galaxy Players train in an academy structure with fully qualified AFC Coaches and compete in Domestic and International Tournaments…..
The Queensland Futsal League administers Regional and Representative Futsal Competitions in Queensland under the auspices of Football Queensland, Affiliated to the FFA and its Futsal governing body FIFA.
Queensland Futsal League has developed a player development pathway from local weekly competitions all….
FFA's National Insurance Program (NIP) ensures that a consistent minimum level of coverage and benefits can be provided to all football participants across Australia.The NIP is also expected to allow greater control on future premium pricing given the larger numbers involved and the emphasis on effective risk management….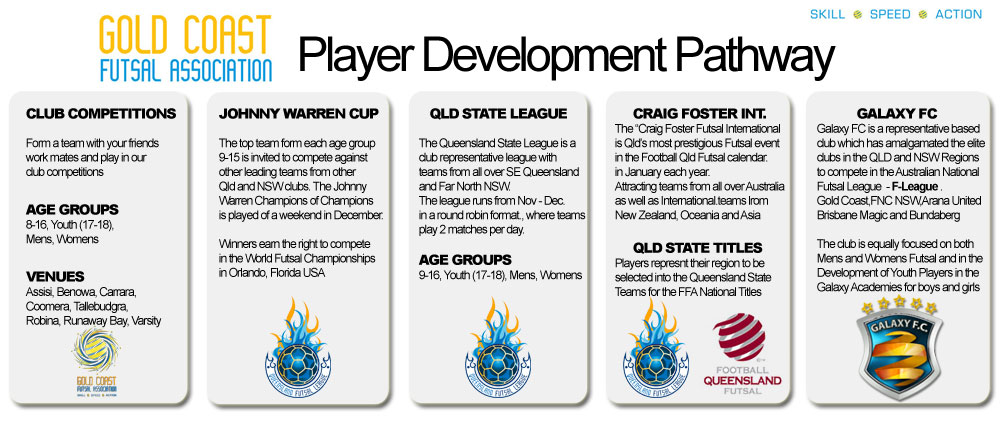 WHAT IS FUTSAL
Futsal is 5 v 5 soccer played indoors on a hard court or turf. It is a fast paced game with no sidewalls and is recognized as the "Worlds Indoor Game" by FIFA. It is played all over the world, from Europe, Asia, South America, Africa, Central America and North America.
"Futsal" is derived from the Spanish, "futbol sala", which means indoor soccer.
Brazilian Mens World Cup superstars such as Pele, Ronaldo, Zico, Bebeto, Socrates and Brazilian Women's superstars like, Katia. Roseli, Pretinha and Sissi played futsal in their home country before going on to star on the world stage in the World Cup.
Played with a goalie protecting a smaller than outdoor goal and 4 field players, totaling 5 on the field, futsals greatest gifts are teaching the proper time, space and skill needed to excel at the outdoor game. Just look at the style and grace that the Brazilians play with on the outdoor field. FIFA player of the year Ronaldo played futsal until he was 16, and Zico credits futsal as being the teaching force behind his magical play.
This fast paced game is played all around the world with a special low bounce futsal ball, a 10 foot wide and 7 foot high goal, the basic rules of outdoor soccer, and free substitution on the fly (like hockey) to allow for fast play and lots of play time.